Founded in 2016, the V2M2 Group, which stands for Viral Visual Marketing and Management is a full service, fully integrated digital marketing agency.  All of our strategies are built to create sustainable revenue for businesses and create a synergy between website design, social media, search engine optimization, marketing automation, and visual media.
Recently, we found out the V2M2 Group is featured on Clutch as one of the top advertising and marketing and email marketing agencies in Chicago. More specifically, we're in 9th position on the Leader's Matrix, a compilation of the top 15 firms (listed by their Clutch rank) in this category.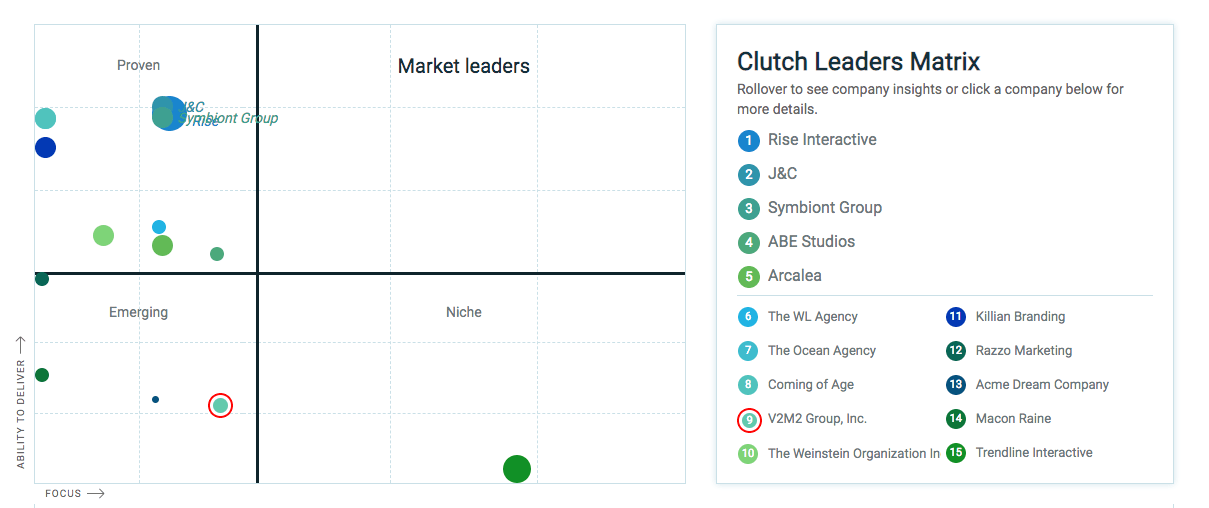 Being featured so highly on Clutch's platform is an honor. Clutch is a B2B services ratings and reviews agency that strives to connect buyers with the best global service providers. Clutch's extensive research covers industries from IT services to advertising and marketing. With this research, they are able to provide buyers with the crucial market insight they need to make important business buying decisions.
The versatility and extent of our team's skillset are also demonstrated by our presence on Clutch's sister websites – The Manifest and Visual Objects. The Manifest publishes how-to and state of tech news for the purposes of helping businesses grow and meet their challenges. C42D is listed on The Manifest as one of the top social media marketing companies in New York. Visual Objects is a new platform that provides buyers with a centralized catalog of the work leading B2B companies from around the world have delivered to their clients. Digital marketing agencies can use this space to display their work in an eye-catching format.
V2M2 group is proud of the reviews we've collected through Clutch, and look forward to collecting more feedback in order to improve our services and provide optimal levels of success.