Instagram video is an absolute must-have in your brand's social media strategy. (She said, surprising no one.) But it's a lot easier said than done.
In 2019, 87% of businesses were using video as a marketing tool, and 90% of them said that they felt competition and noise are on the rise.
Meanwhile, eMarketer just concluded that in 2020, Facebook and Instagram together will account for about two thirds of social video ad spend. That's more than YouTube, Twitter and Snapchat combined.
Source: Business Insider
What does that mean? That almost everyone is publishing video—whether organic or paid—on Instagram, and the pressure is on to make incredible video that rises above the noise.
Not to mention that, with so many different kinds of video on Instagram, how do you know which one to focus on?
Don't worry. You're about to take a deep dive into our comprehensive guide to integrating video into your Instagram business strategy.
We'll take a look at the different kinds of video—Stories, video posts, Instagram live, and IGTV. We've got best practices for each and examples to inspire you. And when you're ready to leave the nest, we have some recommendations for our favourite video editing apps.
Let's get started.
Table of contents
Bonus: Unlock our free, customizable Instagram storyboard template to save time and plan all your Stories content in advance.
Types of Instagram video
Not all Instagram video is born equal. Depending on your needs—and your budget, frankly—your brand might be compelled to walk before you run, and focus on one type over another. Stories, feed posts, IGTV and live video all have different looks, feels and uses.
Let's take a look at the advantages of each.
Instagram Stories
If you're looking for an entry point to posting video on Instagram, starting with Stories is a great call.
This format is short (15 seconds or less, though Instagram will split longer videos into sequential clips automatically) and as far as aesthetics go, audiences aren't miffed by DIY, born-mobile quality. Instagram Stories tend to be friendly, casual and low-pressure.
Also, they disappear after 24 hours (unless you pin them as a highlight on your profile with a nice cover), which makes them appealing if you're experimenting with your audience's favourite content.
That said, if you're using them right, Stories may well act as a person's first or second look at your brand's Instagram presence. So, maintaining a consistent tone and style is important. You want your Stories to be subtly, or not-so-subtly, branded in a way that your followers will instantly recognize them as yours.
(For more tips, check out our whole guide on how to use Instagram Stories like a pro.)
So, what type of video should you post to your Instagram Stories? Here are some examples to get you started:
An evergreen introduction to your brand (save this to your highlights to catch new eyes)
Quick, off-the-cuff product demos
Reposted user-generated content from fans (and by fans we mean your mom, or Khloe Kardashian, or whoever is posting about you)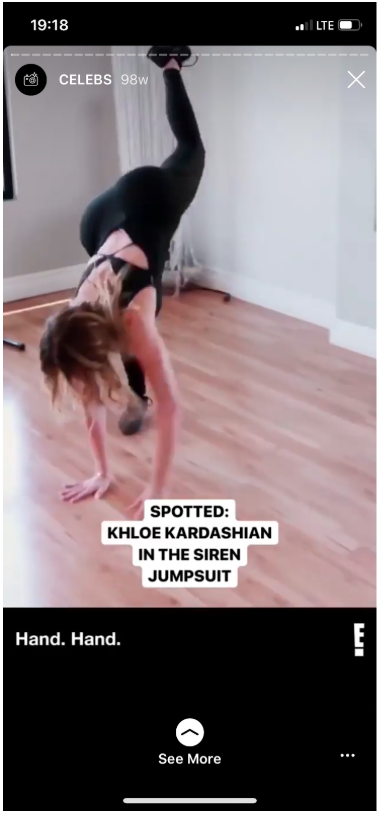 Source: @michi_ny
Instagram feed video
Next up is feed video—a.k.a. a regular video post on Instagram. These can be anywhere between 3 and 60 seconds long, making them the second-shortest type of Instagram video.
And while it's definitely possible to hit record and start shooting from your phone, audiences might expect a little more polish from Instagram video posts these days. After all, posts live on your profile grid in perpetuity, and they're one of your best tickets to getting love from the Instagram algorithm. (And just imagine what happens if your video makes it to the Instagram Explore tab.)
As you add potential video posts to your content calendar, consider your audience's needs. What kind of snackable, on-brand videos will get them to stop thumbing the eternal scroll and pay attention?
Here are some go-to ideas for Instagram video posts:
Quick how-tos and tutorials (more in-depth than a Story how-to, but less detailed than an IGTV seminar)
Behind-the-scenes looks around your brand's natural habitat
Stop-motion or time-lapse videos
Seasonal topics (this can range from fluffy but relatable content like the beginning of spring, to the more explicitly salesy Black Friday)
For instance, Tesla's social media team made a Halloween video that is topical, creepy, and also happens to showcase a cool product feature.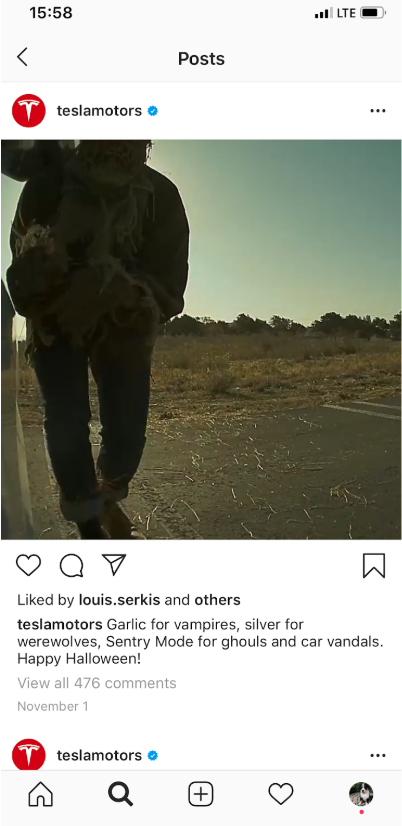 Source: @teslamotors
For more ideas, you can also read our recipe detailing the four key ingredients of a perfect social media video.
Instagram live video
Every social platform has a livestreaming option, and Instagram is no exception.
Why? People say they like it. (According to one study, 80% of you would rather be watching one right now than reading this post—and my feelings are only 80% hurt.) `
But livestreaming can be a little intimidating at first. You're talking on your feet, fielding questions, watching your viewer count, trying to earn those hearts and comments. It can take some getting used to.
But if your boss just declined your request for company-funded improv comedy classes again, our Instagram Live how-to guide is full of handy tips.
And in the meantime, here are some ideas to help you get started with Instagram live video:
Host a Q&A with an expert, celebrity, influencer, or other relevant voice
Livestream a one-off event for people who can't attend: like an industry conference, a talk, or a performance
Launch your new product or service, and make sure that people who tune in to the live stream get an exclusive discount (or special info, etc.)
Of course, the video doesn't have to be ephemeral: you can post your live video to your Stories so it'll live on for 24 hours, and then even post that Story to your highlights so it can live on indefinitely.
For more details on how to "go live" on Instagram, check out our full guide.
IGTV (Instagram TV)
Instagram's long-form video format—previously vertical-only, but now horizontal too—may well require the biggest investment of time and effort of any kind of Instagram video.
But it also offers the depth and connection that only long-form video can: a Google ad experiment, for instance, found that longer videos are better able to create the emotional connections necessary to get people to change how they think.
But the pressure is on. With a lot more room to explore your topic—up to 15 minutes or 60, depending (see our Instagram video specs below)—IGTV audiences might also expect a more polished video than they would for a Story or live video.
And now that Instagram allows you to post the first 60 seconds of your IGTV video to your feed, you really want to make sure that minute is compelling enough that your audience wants to keep watching.
Wondering what kind of videos you should post to IGTV? Think about things like:
A documentary that explores your brand's story in detail
In-depth tutorials or how-tos (with IGTV you have the room to bake a six-tiered wedding cake, so save the cookies for Stories)
Video tours (i.e., your office, your desk, your closet, a space makeover, etc.)
For all our pro tips—and some more best-in-class brand inspiration—read our ultimate IGTV guide.
Instagram video specs
All fired up and ready to start filming? Hold those horses and read these details on Instagram video formats and file specifications, first.
Instagram Stories video specs
Maximum length: 15 seconds
File format: MP4
Aspect ratio: 9:16 (vertical)
Recommended resolution: 1080 x 1920px
Minimum resolution: 720px
Instagram feed video specs
Length: 3 to 60 seconds
File format: MP4
Aspect ratio: 1.91:1 all the way up to 4:5 (i.e., you're free to choose horizontal, vertical or square)
Instagram live video specs
Because Instagram live is filmed directly, in real-time, on your smartphone, you've only got a few specs to worry about. (And no, you can't upload video afterwards and say it was live.)
Length: 3 seconds to 60 minutes
File format: MP4
Aspect ratio: 9:16 (vertical)
IGTV video specs
Length: minimum 1 minute; maximum 15 minutes if uploaded from mobile, or maximum 60 minutes if uploaded from the web, according to Instagram.
File format: MP4
Aspect ratio: 9:16 (vertical) or 16:9 (horizontal)*
Minimum frame rate: 30FPS
Minimum resolution: 720px
Cover photo size: 420x654px (or 1:1.55)
Maximum file size: 650 MB (for videos under 10 minutes) ; 3.6GB (for videos under 60 minutes)
*IGTV started off as vertical-only, but in May 2019 Instagram branched out on aspect ratios and allowed creators to upload horizontal video, too.

Okay! Have all that memorized? Great: you can also check out our complete list of all types of video specs for social media.
Instagram video best practices
As you continue to brainstorm your video masterpiece, keep these in mind.
Tell unique stories
Video has very compelling numbers to back it up, but before you go ahead and put a bird on it pivot to video, consider the medium. Is this story really best told as a video, and not an ebook or a photo carousel? (Or a Tiktok video, or a YouTube video, for that matter?)
You should have good answers for all three questions: why video, why Instagram, and why are you telling this story now?
On Instagram in particular, brands face tough competition. Your video needs to stand out to viewers and the algorithm both. Will people comment on it? Will they send it to their friends on Instagram Threads?
A world-class example of unique storytelling is Nike's Birthplace of Dreams series. These mini-documentaries bring some of the world's biggest athletes back to their childhood neighbourhoods to recall the dreams that got them to today. They're gritty, poignant and inspiring: very Nike, very wow.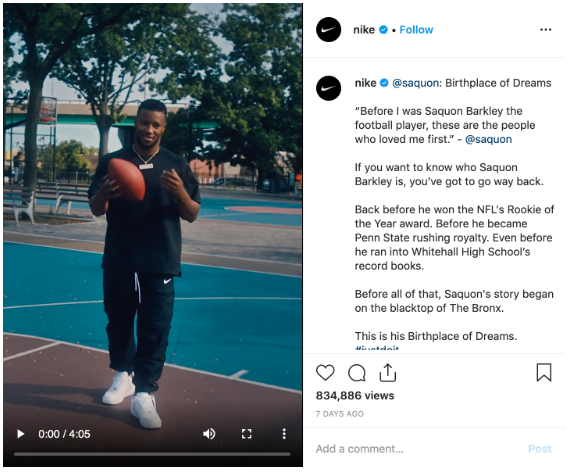 Source: @nike
Start with the most engaging clip
People scroll fast, and our brains are conditioned to skip anything that looks like an ad. So make sure your cover image and your first 2-3 seconds are eye-grabbing. (Yes, even if it technically shows up later in the video, start with the clip that people are going to want to look at twice.)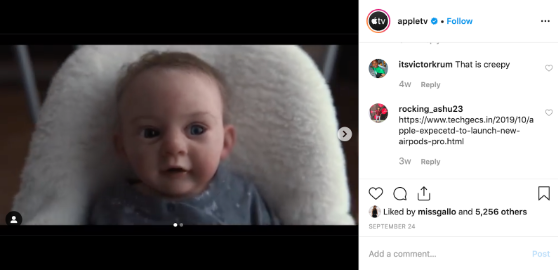 Source: @appletv
Include subtitles
Yes, 60% of Instagram Stories are viewed with the sound on, but since the majority of Instagram's traffic is mobile, it's better to plan for both sound off and on viewing.
Of course you want your videos accessible to everyone, and subtitles are crucial for comprehension and accessibility. Your video deserves to catch as much of that hard-earned audience as possible.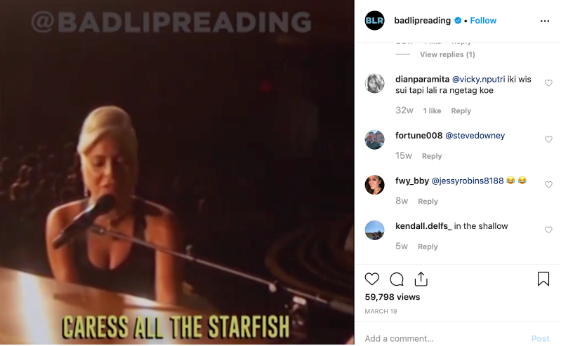 Source: @badlipreading
Spin out a series
You've gone to the trouble of thinking up a great idea, so why not explore it thoroughly? Recurring series lend a sense of continuity to your brand's Instagram presence. Plus, some series are ideal candidates for batch-filming. Angle your two ferns in the sunlight and interview three different experts, and you have three times as much content to roll out.
Intrigued? Take a look at your analytics: if one of your videos did super well with your audience, there might be demand for more.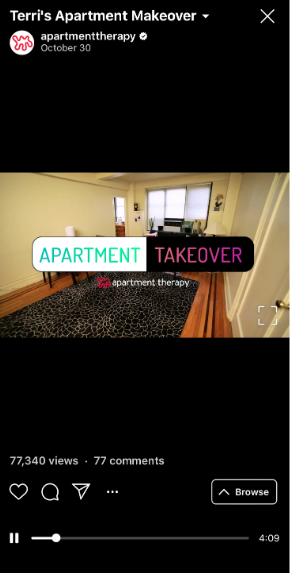 Source: @apartmenttherapy
Tease your videos before they go up
Whether your product is fashion backpacks, EDM tracks, or productivity software, when you've spent a portion of your budget on professional-grade video you're going to want to make full use of it.
So take a cue from the big guns (you know, Hollywood), and give your audience a taste of what's coming.
Teasers don't just build buzz, they fill out your content calendar with high-quality, on-brand video. Three high-engagement posts is better than one, yes?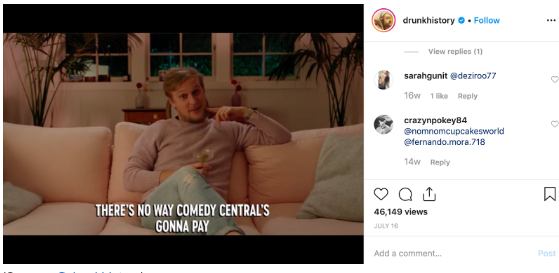 Source: @drunkhistory
Pro tip: advance promotion is especially important for live video. You want your audience to know that it's happening, and when to tune in, but also why they should watch it. Give them all the information they need.
Cross-promote your videos when they're up
With so many different video formats on Instagram alone, don't be surprised to find yourself promoting your feed videos in your Stories, and your IGTV in your feed and your Stories, and your Live videos, um, all over.
Instagram will even do it for you, in some cases: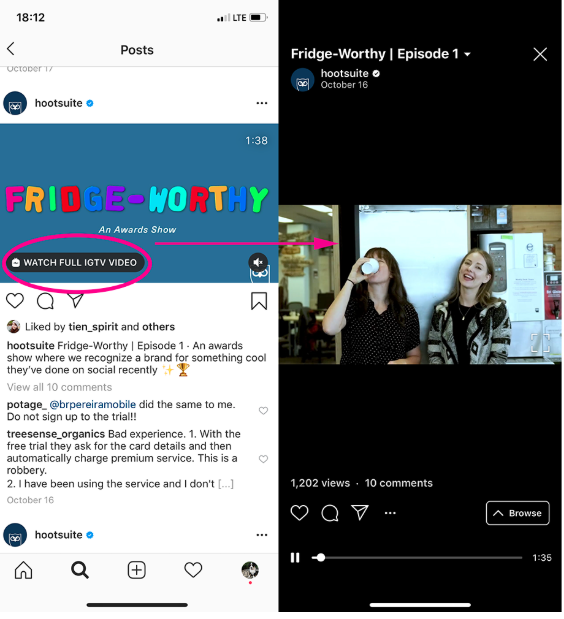 Source: @Hootsuite
Especially with live video, make sure to post it to your Stories so people can catch what they missed. If it's a really big deal for your brand, highlight that Story to your profile. (Yes, we've got instructions: check out #47 on our list of Instagram hacks.)
After you've got Instagram covered, get that video onto the rest of your channels: Twitter, Facebook, email, blog. But please don't post the same message everywhere: cross-promotion definitely requires finesse.
A/B test different kinds of videos
Yes, how-tos are the most popular kind of video content on Instagram, but, you know what? There are so many how to videos. (Would you like to make an egg bigger than before?)
Experiment to find out what kind of video your audience actually wants. Documentaries, before-and-afters, interviews—you could even post a poll in a Story and get people to vote for their favourite idea.
But there's more than one way to pet a cat: check out all our favourite ways to kickstart your social media brainstorming sessions.
And in the meantime, yes, you can always post a few more how-to videos: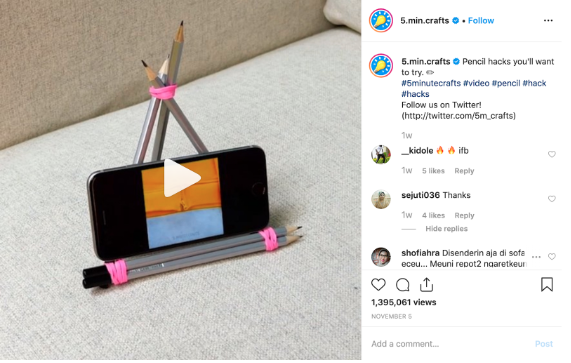 Source: @5.min.crafts
Play to your values
What's trending on Instagram right now? Brands taking stands, for one.
Whether it's climate change, gun control, or rocking the vote, people prefer brands that act on their values. Something to keep in mind as you decide how and where to invest in your video content.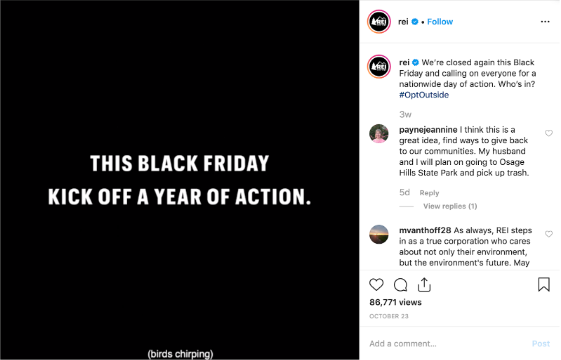 Source: @REIs
Instagram video apps
Ok, you've got your video figured out and filmed. But what do you do with all that raw footage? Especially when it's all on your phone.
Instagram video editing is easier than ever. Here's our list of best-in-class smartphone apps to polish up your videos:
Hyperlapse
Cost: Free
Download: iOS only
Use it for: Timelapse videos
This minimalist, professional app is an offering from Instagram itself. The promise here is that the app's stabilization feature is so good that anyone can "capture an entire sunrise in 10 seconds—even from the back of a moving motorcycle." You can also choose the speed of the timelapse: the app goes up to 12x faster.
VSCO
Cost: Free, but some filters require in-app purchase; there are also monthly or annual memberships.
Use it for: Stunning filters
If you're already using VSCO to filter your photos, you're ahead of the game. But make sure to run your videos through this treatment as well.
Clipomatic
Cost: $4.99
Download: iOS only
Use it for: Adding captions
We listed Clipomatic in our list of Instagram apps for business, too, because it's so easy it's worth repeating. Subtitling is important for video on Instagram, and while for big projects you might want to go ahead and invest in a subtitling service, if we're just talking an off the-cuff Story video, Clipomatic is quicker and cheaper.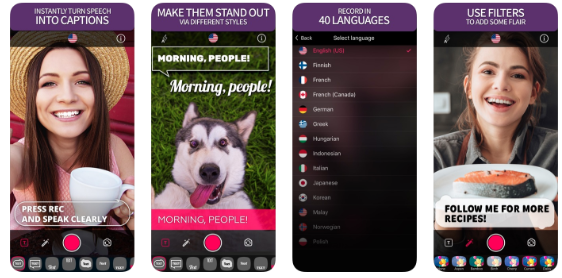 Source: Clipomatic on The App Store
Magisto
Cost: $4.99 monthly, $29.99 professional; $59.99 business
Use it for: Video editing for beginners, with a catalogue of stock content
Magisto is Vimeo's editing app, and while it's not the cheapest app out there, we're including it because it's ridiculously easy. There's no real editing involved: the app essentially compiles your clips, images and soundtrack into a video that is something like a slideshow.
It also gives you access to royalty-free music and stock video. And if you don't quite trust your own cinematography skills—or have access to as many cute animals as you'd like—it can be quite handy.
Adobe Premiere Rush for Video
Adobe is the top name in visual software, and it's no surprise that Adobe Premiere Rush is best in class for mobile video editing. This app was built with social media managers in mind, and we appreciate the control it gives us.
Bonus: Also check out Adobe Spark, which is geared more towards animating still photos: ideal for Stories and feed posts.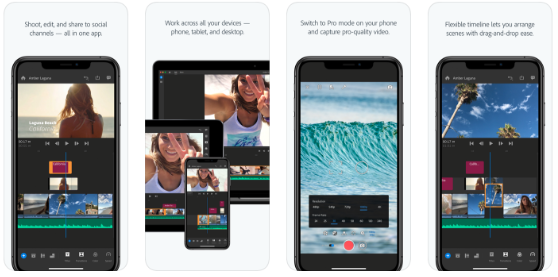 Source: Adobe on The App Store
Grow your Instagram presence using Hootsuite. From a single dashboard you can schedule and publish posts—including video posts—directly to Instagram, engage the audience, measure performance, and run all your other social media profiles. Try it free today.
The post Instagram Video: The Ultimate Guide to Creating Engaging Content appeared first on Hootsuite Social Media Management.